Jafuji Granite Surface Plate (With NABL Calibration Certificate)
JAFUJI GRANITE SURFACE PLATES a crystalline rock has a fine grained, non-porous texture. It is crystalline throughout and the composition is hard and compact. The average grain size measures less than 1mm where as the average grain size of the common grey or pink granite varies from 2 to 3mm .The Crystal Grains or ordinary granite vary in size and the spaces between the individual grains are soft and porous. Granite is a very homogenous material (Density of texture 20% higher than that of ordinary grade) and has a constant hardness throughout (6 - 6.5 the moos-scale).Granite does not have the aforementioned soft in between spaces and has therefore a much higher wear resistance plus a higher degree of flatness accuracy.
MATERIAL STRENGTH
JAFUJI GRANITE SURFACE PLATES has a material strength, which is three times greater than that of ordinary granite and it is super rigid. To obtain the same rigidity, a surface plate made of ordinary granite would require a 44% greater thickness. These and other qualities make granite on ideal material for surface plates providing increased wear resistance and a much longer life span.
INSENSITIVE TO TEMPERATURE CHANGES
JAFUJI GRANITE SURFACE PLATES has a very low expansion coefficient (5 X 10 -6 meter per degree), which makes it least responsive to temperature changes. Changing temperatures in shops, inspection rooms etc., which are virtually unavoidable since warm air rises and cold air remains below, affects ordinary granite plates much more than our surface plates. And they are therefore subject to wrapping which in turn jeopardizes flatness.
OTHER ADVANTAGES

100% Corrosion–proof and acid resistant. Non–magnetic and electrically non-conductive, Fast and easy to clean.
No oiling required which is mandatory on cast iron surface plates-Surface with Non-glaring satin finish.
JAFUJI GRANITE SURFACE PLATES are inspected through Electronic level and computer provided with "Wyler Measuring & Processing System "of M/s.Wyler Switzerland, to ensure the accuracy.
JAFUJI GRANITE SURFACE PLATES are supplied with a calibration certificate traceable to National Standards Showing Graphic display of the flatness.
JAFUJI GRANITE SURFACE PLATES are polished on four sides including champering to get a better look.
JAFUJI GRANITE SURFACE PLATES are manufactured by high Precision lapping method providing 45 degrees champering at edges & corners to avoid chip offs and cracks.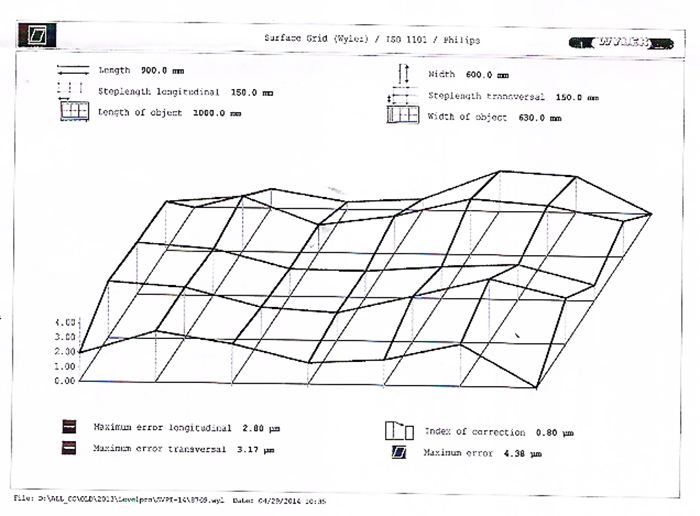 PRODUCTS
| | | | | |
| --- | --- | --- | --- | --- |
| S. No | Surface Plate Size (in mm) | Accuracy As Per IS-7327-2003 | Weight (in Kgs) | Weight with Box (in Kgs) |
| 1 | 400X400X60 | 4.5 µm | 30 | 40 |
| 2 | 630X400X80 | 5.0 µm | 65 | 90 |
| 3 | 630X630X80 | 5.0 µm | 100 | 125 |
| 4 | 800X500X100 | 5.0 µm | 120 | 150 |
| 5 | 1000X630X140 | 6.0 µm | 300 | 350 |
| 6 | 1000X1000X150 | 7.0 µm | 470 | 550 |
| 7 | 1200X800X160 | 7.0 µm | 500 | 600 |
| 8 | 1600X1000X200 | 8.0 µm | 1000 | 1100 |
| 9 | 2000X1000X200 | 9.5 µm | 1300 | 1425 |
*We can supply MS Fabricated stand levelling screws